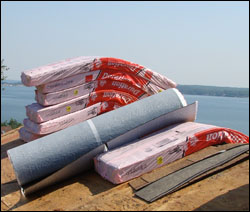 Exclusive Roofing Inc. is a privately owned roofing corporation located at 1610 GAR Highway in Somerset, MA that services all of South Eastern Massachusetts and all of Rhode Island. Specializing in residential roofing, we pride ourselves on being the premier roofing company of the South Coast (greater Fall River, New Bedford & Taunton as well as the rest of our service area). We succeed by employing the highest skilled, licensed and insured, factory certified installers, and by using the best lifetime warranteed products available. For the past decade we have consistently received the highest praise and overall ratings from our customers.
---
Is it time for a new roof?
If your roof is showing any of these signs of wear, it is time for a new roof. Give us a call or visit our free roofing estimate page to set up an appointment for a free estimate.
Granule Loss: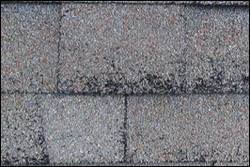 Usually the first sign of shingle failure. As a shingle ages the asphalt and bonding agents holding the granules become dry, thereby losing their ability to hold. This is a more than cosmetic being that the job of the granule is to deflect the heat from your roof in the summer and absorb and conduct cold off your roof in winter.
Thermal Splitting: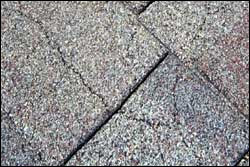 Usually limited to a low-grade three-tab shingle. Three tab shingles are made with fiberglass mats that have been sprayed with asphalt and then coated with a bonding agent that holds the ceramic granules. Temperature extremes of New England are often too much for this type of shingle. The expansion and contraction of the asphalt slowly tears the fiberglass matt causing it to split.
Buckling and Curling: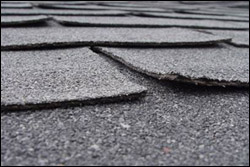 Usually associated with the asphalt drying out and losing its pliability causing a contraction of the shingle in one direction or the other.
Fish Mouthing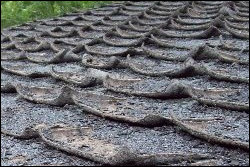 Occurs with an organic mat three tab shingle that has dried out allowing water to enter and swell the mat on the finger joints where it is susceptible to water penetration.
Staining: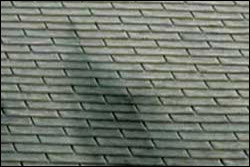 Staining is usually associated with three tab shingles and is caused by a black algae growing in the crevasses where granules have shed and oils have dried due to age. There are many products on the market today claiming to remedy this problem. However, this problem is not cosmetic, as those selling their products would have you believe. Algae are organisms whose purpose is to break down dead materials. That is why, over time, they will destroy whatever they grow on, including your roof.
---
Featured Roofing Projects
Border City Mills Bell Tower

Exclusive Roofing Inc. was the company entrusted to repair the 1873 trademark Bell
Tower at "Border City Mills Apartments" several layers of shingles was stripped off
the old tower and replaced with an Owens Corning Lifetime Architectural Shingle;
color: "Sand Dune" The rusted metal apron that was falling apart at the base was
replaced with a high performance trim coil extruded to closely resemble the
original. In less than two days Exclusive Roofing brought the old bell tower back to
its original glory.
---
Post Office in Fall River, MA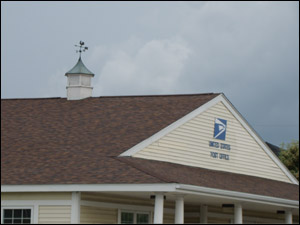 When the United States Post Office needed to replace the roof on their 10,000 square foot facility in Fall River, MA, "Exclusive Roofing" was the company chosen. (10,000 square feet of roof was stripped and a complete roofing system installed in one day, so as to not interrupt postal operations.)

---
Coastal Homeowners in MA & RI
When Coastal Homeowners want a premier roof installation that can withstand the rigors of coastal winds, Exclusive Roofing is the company most sought. (We use an Owens Corning Lifetime Shingle with a 130 mph wind resistance warranty for all our roof systems. As a precaution, we hand seal shingles on the rake, ridge and entire perimeter on all our coastal home projects).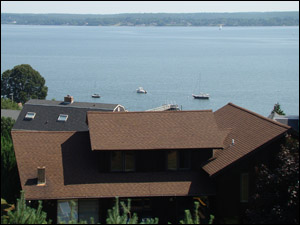 Call Today 508.558.3844 For Your Free No Obligation Roof Inspection And Estimate!